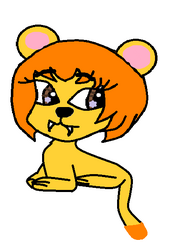 Micaela is a lioness. 
Discovered by Girls
Edit
Girls, discovered a little lioness because they had a shampoo with a figure, too similar to the characters of Littlest Pet Shop. This mean, that Girls didn't design
Micaela, they took her design and they added to her:
Her name, personality, biography and friendships.
Biography
Edit
Micaela was born in the jungle. She lost all of her family, because humans took the lion family (except Micaela) for save the lions in a zoo.
Blythe took her for save her life, and nowadays she is caring Micaela in her Pet Shop.
Her name is Micaela, but they call her just Mic.
Personality
Edit
She meets friends easily, she is innocent and naive, and never does anything with malice.
Physical appearance
Edit
She is cute, her coat of her skin  is yellow, and her head fur is orange.
Her nose is big and black, her eyes are brown.
Her black thick eyebrows they give her an innocent look.
Friendships and boyfriends
Edit
She feels an atraction to Vinnie Terrio, she is fallen in love with he.